Goldkartz features in Tribune India Press, Page 1
Desi beats, foreign shores
In Chandigarh to promote their promotional song Mauja from the Bollywood movie Chala Mussadi Office Office, two brothers Manjit and Sukhjit Singh Gill of music band Goldkartz reveal how they sell their music in Malaysia
Jasmine Singh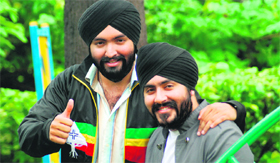 For a country like Malaysia, known for its scuba-diving reefs, if you happen to overhear the beat of Punjabi music, it is definitely not a day-dream! Far in the country, two brothers Manjit and Sukhjit Singh Gill of music band Goldkartz not only make Punjabi music, but also sell it to the Malaysian audiences!
In Chandigarh to promote their promotional song Mauja from the Bollywood movie Chala Mussadi Office Office, the two brothers talk of breaking barriers, internationally. But first, some office talk!
"Mauja is a promotional song for the movie, and we are pretty happy the way it has turned out," says the duo. Mauja is their first Bollywood project, with contemporary beats. But this wasn't an easy track, because how many people have you seen dancing and swaying to a song based on corruption? So, we had to bring in peppy beats and gel in with the theme of the song and movie. It is Punjabi yet modern at the same time," shares the duo. How else would you sell a Punjabi number in South Asia?
"We released our first album in 2008, which was again a blend of Punjabi and modern beats. Our second album 24 Karaatz won awards in Malaysia," puts in Sukhjeet and Manjeet, born and brought up in Malaysia. The duo is known as Bhangra ambassadors in Malyasia and has also done collaborations with various artistes like Rishi Rich, Shankar Mahadevan, Punjabi by Nature etc. "The audiences have always reacted well to our work, which is neither strictly Punjabi nor Western. We have created a middle path, which appeals to everyone."
At the moment it is their first-ever Bollywood track that is taking the band's time. Puts in Manjit, "We have a couple of projects lined up, let's see how they shape up. We have been brought up in a different culture; the effect can be seen on our music as well. However, we still get in the 'real' Punjabi touch in our tracks."